Radical Change of Direction For Mini
Announced on the 1st of October 1996, the most radical package of improvements in its history brought a new direction for one of the world's best-loved cars - the Mini. Making its debut at the Paris Motor Show, the latest Mini range sees greater emphasis than ever on its unique personality, enhancing its status as something far more than another small car.
The current line-up of just two models - Mini and Mini Cooper - offers significantly improved specification levels and extensive engineering changes. They provide not only greater technical refinement, but the most comprehensive opportunity ever for Mini buyers to individualise their car and to create a vehicle that transcends conventional boundaries.
EXTENSIVE RE-ENGINEERING
Elevating the Mini from its traditional 'entry-level' positioning, the changes that have created the new range incorporate a wide spectrum of actions to refine all aspects of the car's performance. It includes a comprehensive new safety package which includes a driver's airbag - a feature once thought impossible to engineer into Mini.
Stringent new emissions legislation and pass-by noise regulations have not simply been met, but exceeded by significant investment in the power train and its installation. Multi-point fuel injection, using two injectors carefully tuned to the A-series siamesed inlet port design, are controlled by the sophisticated MEMS 2J electronic engine management system used on Rover's 800 KV6 and MGF 1.8i VVC. Power output remains unchanged but a much improved torque curve has enabled the introduction of a higher final-drive ratio for more relaxed cruising at motorway speeds.
Another significant technical change is the repositioning of the radiator to the front of the engine bay ensuring compliance with the pass-by noise legislation and enabling major gains in refinement at all engine and road speeds.
NEW SAFETY PACKAGE
The complex engineering task has included the installation of competitive levels of secondary safety equipment. A driver's airbag is now fitted as standard and seat belt pre-tensioners and side door intrusion beams are part of the core specification on both models. The airbag has required a total re-design of the steering column enabling the fitment of up-to-date column control stalks which finally bring the lighting controls to within finger-tip control of the driver.
FOLLOWING FASHION
Mini buyers and established owners alike spend considerable sums on options and accessories. As a means of fashionable self expression, Mini is unsurpassed - rarely are two exactly the same. The 1997 Mini programme allows the customer to choose a wide range of unique colours, trims, options and accessories enabling the car to truly reflect the owner's personality. Factory fit options include a Sports Pack featuring stunning 13" x 6J alloy wheels, with body coloured wheel arch spats and Koni shock absorbers, along with additional instrumentation, lamps and a big-bore chrome exhaust finisher. Leather trim, finished in a style reminiscent of much more expensive cars, is available in a range of colours including a red leather 'classic' style evocative of the 1960s. Several 'original' body colours are available including Almond Green and Surf Blue. A 10-piece wood kit, 'turned alloy' facia and electric canvas sun-roof complete the factory fit option line-up.
The most extensive customisation opportunity comes from the immense range of accessories now available to Mini owners old and new. Every conceivable area is covered from road wheels to exterior chrome details, interior leather and alloy finished items, wood door cappings and even a polished engine rocker cover. Dramatic effects are available through a range of decal kits including the "Union Jack" and "Chequered" roofs, a 'zipper' full length side decal and a range of additional badges.
Mini is priced at £9325 and Mini Cooper is priced at £9625 (although you should expect a generous discount) and both are powered by the 63PS A-Series engine. Alloy wheels are standard on both derivatives with a new 'luxury' design featuring on the Mini. A wood facia with additional instrumentation applies to both models and the Mini Cooper retains its white roof, bonnet stripes and spoked alloy wheel design.
WHO BUYS A MINI?
Throughout the 1990s, Mini has been moving steadily upmarket. In the key export markets of Europe and Japan, Mini has long been perceived as a desirable status symbol, bought for its heritage and unique, ageless style. The 1997 programme moves the UK versions of the car in this same direction, as there are no longer any 'entry-level' models such as the previous Sprite or low price Special Editions.
Typical Mini buyers are now less likely to be families seeking a second or third car, but increasingly tend to be single, well-educated professional and managerial people desiring a fashion statement.
The 1997 Mini sees an important step-change in the development and projection of the Mini brand by reverting to a classically simple and straightforward range that emphasises the strength of the brand, taking it firmly upmarket.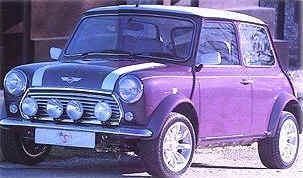 There are just two models - the Mini and Mini Cooper.
Both feature impressive new specification enhancements, including new safety and refinement packages.
Both have the latest 63PS multi-point injection power unit and all the associated technical improvements.
Both are available with a newly-created array of quality approved options and accessories - with a dramatic 'Sports Pack' for the ultimate in street style.
Both are priced identically in standard form - customers simply choose the imagery that they prefer.